KAOHSIUNG, Taiwan—On the evening of June 21 Shen Yun Performing Arts International company had its first performance, this season, at the Jhih-De Hall of Kaohsiung Cultural Center.
Kaohsiung Mayor Chen Chi-mai sent a congratulatory message "A Complete Success to A Grand Affair of Art and Culture" to wish Shen Yun a successful tour.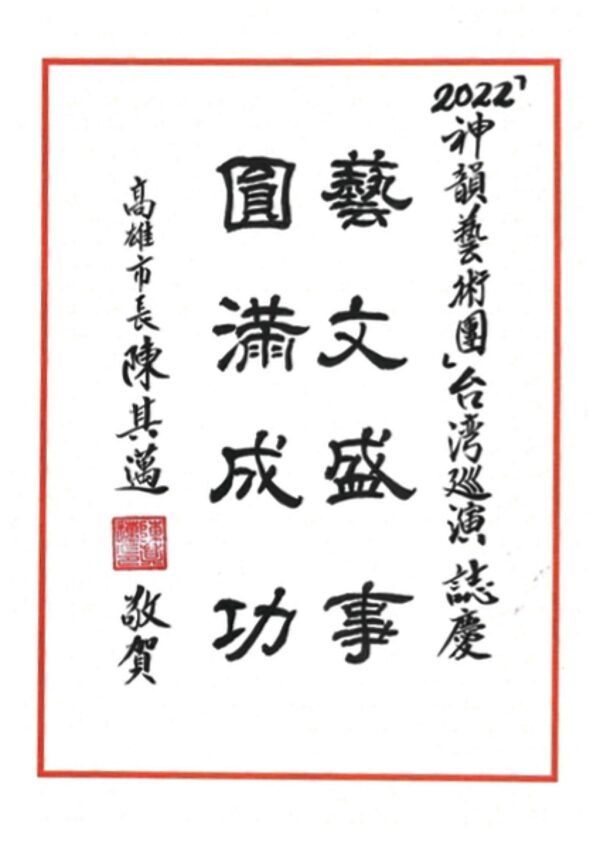 Shen Yun showcases traditional pre-communist Chinese culture. In just two hours, Shen Yun's program retold the prosperous times of Chinese history through beautiful dance and music.
'Truthfulness-Compassion-Forbearance Can Purify People's Hearts'
Lin Tai-hua, a legislator watching Shen Yun for the second time, said, "I think everyone can see that Shen Yun uses very fine and detailed costumes, and an orchestra, incorporating Chinese and Western instruments, to present five thousand years of Chinese traditional culture."
Ms. Lin noted that "The program exhibits the various styles and features of Chinese lives in the South and the North, including those of the Yi ethnic group, the Mongolians, and life in China's Greater Central Plains."
"Of course, the rarest of all and the most precious is that the performance portrayed 'Truthfulness-Compassion-Forbearance', the core values of Falun Dafa," she said.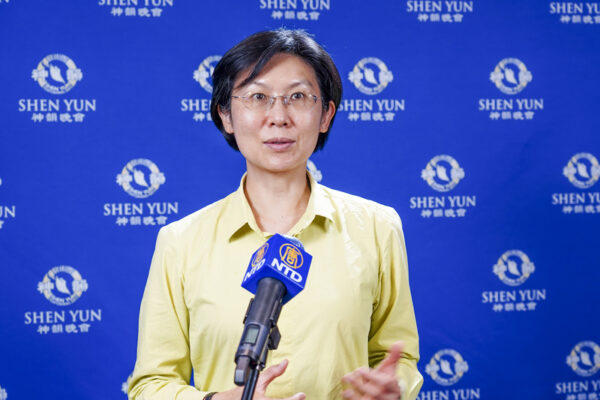 She believes that following these core values will purify people's hearts.
"I believe that to be sincere and kind and to be tolerant of all people and things will purify people's hearts and elevate human morals; it is beneficial between people and between countries, and I believe it would help reduce the disasters in the world," she explained.
In order to reduce disasters in the world, Ms. Lin said, we must start by changing people's hearts. "The most important thing is that 'truthfulness, compassion, forbearance' as portrayed in the performance should be the goal we pursue and strive for, so I am very grateful to Shen Yun for bringing a very different artistic feast," she said.
For many people who are afraid to go out of their homes during the epidemic, she encouraged them, saying, "I think in the future, we will have to move towards a new life despite the impact of the epidemic, so take it easy and I invite everyone to watch Shen Yun together."
'It's very pleasing to the eye, it's really wonderful!'
"It's very pleasing to the eye, it's really wonderful! This time is very different from the performances (I previously saw), including dance and orchestra performances and everything. Shen Yun incorporates a lot of interactive scenes in the backdrop, which are very lively and dynamic. It's truly wonderful." Kaohsiung City Councilor Chen Hui-wen said.
"The performance teaches people to be kind and to have benign thoughts. I think this is the spirit that Shen Yun wants to show," she said.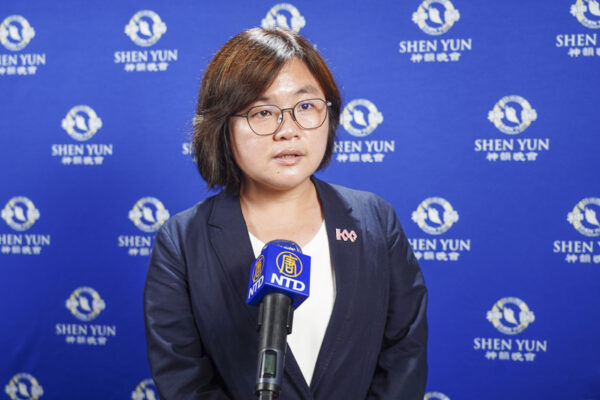 "After watching the whole performance, I felt very energetic and very happy."
Ms. Chen added that because of busy work, "I was actually very tired and wanted to go straight to sleep after a full day, but during the entire performance, I was really being pleasantly surprised. My whole body felt reinvigorated and I didn't feel sleepy at all, not even the slightest bit! I was practically staring at the stage from the beginning to the end!"
'Seeing Shen Yun Makes Me Feel Like Royalty'
Yang Kun-tso, manager of a regenerative medicine technology company, saw Shen Yun for the first time. He was in total awe and said, "I think it's very special and innovative. All of the dances and the content of the performance are uniquely different from other performances."
Mr. Yang said that in ancient times, Shen Yun would probably be a performance for the imperial family, which made him feel particularly intrigued.
Being able to watch such a beautiful performance in the post-epidemic era, Mr. Yang said, "I think it's very good. It's rare to see such a performance, I feel quite refreshed. Yes, it's a whole new experience."

'Let the World See the Chinese Traditional Culture'
Mr. Zhang, a mainland tourist who came to Taiwan to visit relatives but was unable to return to China due to the pandemic, had the opportunity to see Shen Yun.
"The most touching part is the dance, which has educational significance for young people," he said. "It is mainly to show the prosperous times of the Qin dynasty, the Han dynasty, and the Tang Dynasty, and to present traditional Chinese culture to the audience of Taiwan."
Mr. Zhang concluded, "Some people don't understand Chinese traditional history, and this performance brings it to life for people to see."
'So beautiful for the eyes to take it all in'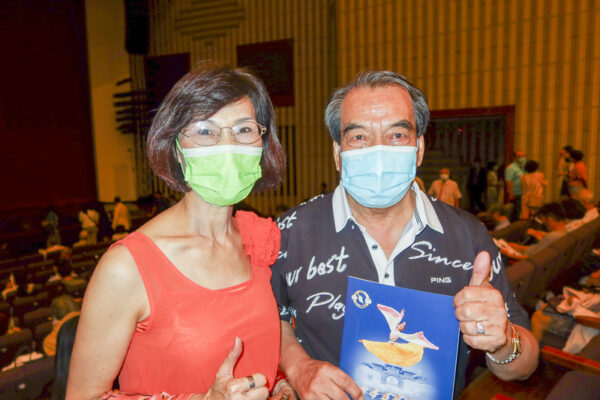 "Today's program is something that we have never seen before, and the emcees are also terrific! The two are really geniuses," said Hsu Chu-ju, chairman of I Cheng Thermal Insulation and Refractory Engineering Company.
Mr. Hsu praised the variety present in Shen Yun.
"I like each and every piece very much, they are all of a high standard, and the animated backdrop adds just the right amount to enhance the experience," he explained.
He added that the performance was a real eye-opener. "It's really well-choreographed and put together, and the whole show is a feast for the eyes."
Mr. Hsu said that he encourages his friends to experience Shen Yun for themselves.
Reporting by Epoch Staff in Kaohsiung.
The Epoch Times is a proud sponsor of Shen Yun Performing Arts. We have covered audience reactions since Shen Yun's inception in 2006.